SEL OCTAGON TOKYO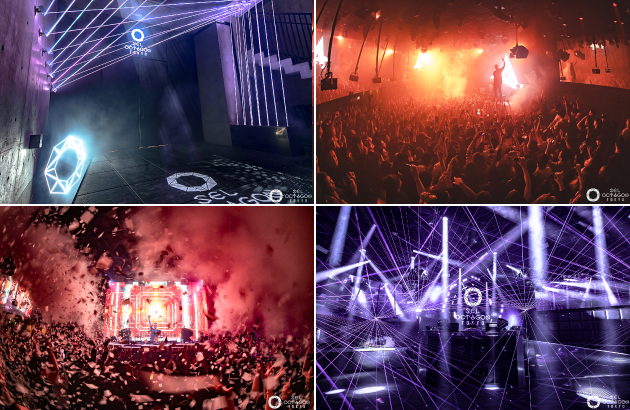 | | |
| --- | --- |
| URL | https://sel-octagon-tokyo.jp/club/ |
| Address | AXALL ROPPONGI B1F, 7-8-8 Roppongi, Minato-ku, Tokyo 【MAP】 |
| Tel | 03-5412-0063 |
| Capacity | 700 people |
| Floor | 3 Floor |
| Genre | EDM・House・TRANCE・HIPHOP・ALLMIX |
INFORMATION
SEL OCTAGON TOKYO is the latest nightclub that opened in February 2019 as a space that combines the elements of entertainment × art × digital technology.
The store is composed of MAIN FLOOR, GALLERY BAR where art is displayed every season, and VIP AREA where celebrities from Japan and overseas gather.
Domestic clubs have a maximum of 10 lasers. You can experience a spectacular space performance by reflecting the laser on the mirror-specified wall surface.
It is the highest quality audio equipment in Japan and can be used not only for DJ play and live performance but also for various purposes such as corporate seminars and special parties.
* At SEL OCTAGON TOKYO, we have set up a dress code to ensure that all customers have a comfortable time, and we adhere to that. Jerseys, sweatshirts, shorts, tank tops, sandals, fashion tattoos and tattoos may be refused entry at our discretion. Please note that entry may be refused if it is determined that it does not fit the atmosphere of SEL OCTAGON TOKYO.
Cigarettes and cigars are non-smoking. Only heating type is available.
▼Price
(THU)
OPEN 21:00 / CLOSE 28:30
ENTRANCE FEE: MEN ¥1,500(1D) , WOMEN FREE
"HAPPY THURSDAY"
MEN:FREE before midnight(~24:00), ¥1,500/1D(24:00~)
WOMEN:FREE
(FRI)
OPEN 21:00 / CLOSE 28:30
ENTRANCE FEE: MEN ¥4,000(2D) , WOMEN FREE
"HOT HOUR"
[OPEN 〜 24:00]
FREE entrance for all guests
[24:00 〜 CLOSE]
MEN:¥4,000/2D WOMEN:FREE
(SAT)
OPEN 21:00 / CLOSE 28:30
ENTRANCE FEE: MEN ¥4,000(2D) , WOMEN FREE
"HOT HOUR"
[OPEN 〜 24:00]
FREE entrance for all guests
[24:00 〜 CLOSE]
MEN:¥4,000/2D WOMEN:FREE
TOKYO CLUB GUIDE LIMITED COUPON
【Lowest Price】
Show TOKYO CLUB GUIDE coupon image, get the discounts below!
Coming soon…