7/13(Sat)Straight Heat Saturday – at Ruby Room Shibuya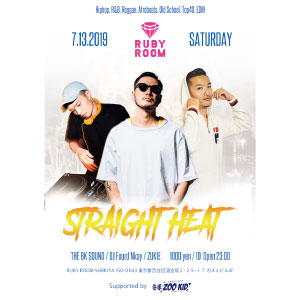 Date
2019.7.13(Sat)
Place
Ruby Room Shibuya
Address
150-0043 Shibuya-ku, Tokyo Ward Dogensaka 2-chome 25-17 Kasumi Building 4F 【MAP】
Genre
Hiphop /Reggae / R&B / Latin / Afrobeats / Old School / Top40 and all
Details
OPEN : 23:00
ENTRANCE : ¥1000 1D
GENRE : Hiphop /Reggae / R&B / Latin / Afrobeats / Old School / Top40 and all
Facebook page
https://www.facebook.com/events/2338657439723930/
Supported by ZOO KID Sasazuka
DJ Fourd Nkay presents "Straight Heat Saturday" coming to Tokyo from New York!
On 7/13 Saturday at Ruby Room Shibuya, DJ Fourd Nkay, Zukie of MidnightRock and BK SOUND of Monster Lion / Sho-Nan-No-Kaze play Hiphop, R&B, Reggae, Afrobeats, Old School, Top40, EDM and all. DJ Fourd Nkay is bringing real New York Style to Japan with great DJs. The party starts at 11pm, till the sun up. If you don't wanna do all night, even you can join until last train come. Or of cause you can party all night long! Plz join it!